Tan Removal Kit (De-Tan Face Scrub, Face Mask, Eye serum)
Pores De-Tan Face Scrub gently exfoliates, smoothens, and lightens tan from the very first use. A powerful combination of natural skin-toning Yogurt Extract, the effective exfoliating action of coffee oil, and moisturizing mint gives fresh and glowing skin. It is specially designed to offer deep exfoliation of dead skin cells, embedded dirt, and grime from the skin. Yogurt extracts present in the scrub detoxify the skin and improve blood circulation while providing a long-lasting moisturization that makes the skin soft and supple.
A detoxifying and deep cleansing face mask that leaves the skin smooth, refreshed, and refined. Its Coffee Oil rejuvenates the skin, while Aloe Vera Extracts cure, soothes, and protects the skin from the damaging effects of the sun. Pores De-Tan Face Mask not only deeply cleanses your skin, but it will also effectively remove tan. Get brighter and clearer skin tone with cucumber extracts that deliver rich nutrients to the skin and provide intense moisture and fairness.
Pores Under Eye Repair Serum is an innovative serum with patch technology that adheres the treatment to the area around the eyes to address wrinkles, firm and plump the skin and reduce the appearance of puffiness and dark circles. It is designed especially for the delicate skin around the eyes. It is an ingredient-focused line that blends the goodness of plant extracts with benefits into your everyday skincare routine. This serum has components that tighten the skin, minimize redness and aid in the breakdown of stiff protein fibers. It is an ultra-light serum that promotes the development of collagen and elastin to lessen the outward signs of premature aging. 
How to use it?
Step 1: Apply an adequate amount of Face Scrub gently on your wet face & neck.
Step 2: Massage gently with your fingertips in a circular motion .
Step 3: Clean your face thoroughly with water. Step 4: Pat dry your face softly with a towel.
What is the cost of shipping?
A shipping charge are free is relevant to all orders. Please refer to the order details page for estimated shipping and delivery timelines for your orders. From the time of shipping, it takes 5-7 days for orders to reach you.
If you have placed an order with multiple items, please note that your items may arrive in multiple shipments. The estimated delivery times are indicative, and, on some occasions, there might be some unavoidable delays beyond our control. We will keep you informed in case of any delays.
What can I do if my order dispatch is delayed?
We will try our best to get your products to you within the estimated delivery times. If the package has not reached you by the expected delivery date, please write to us at care@porescosmetics.com and we will try our best to resolve your issues.
Can I track my order?
Once your order has been dispatched, you will receive an email with the details of the tracking number and the courier company that is processing your order.

Also, you can go to My Accounts → Orders and track order status from the details page.

You can track the status of your package 24 hours after your order is dispatched from our warehouse.
What Is the procedure for Returns, Refunds, and Cancellations
Step 1 –
Raise a return/replacement request within 7 days from the date of delivery, if you've received the wrong or expired product(s). Please raise a request here with the order and contact details. You can also raise a request with us using the Chat option. In case of damaged/ missing product(s), raise a return/ replacement request within 2 days from the date of delivery.
Step 2 –
Give us 2 working days to review your return request.
Step 3 –
After reviewing your return request, we will send our courier partner to pick up the products delivered to you.
Step 4 –
In case our reverse pick-up service is not available at your location, you will need to self-ship the product via any reliable courier partner. We will reimburse the courier charges, either in your PayTM Wallet or Bank Account.
Step 4 –
After your product(s) is received, we will verify it against the claim and initiate the replacement or refund accordingly. Please note that replacement will depend upon stock availability.
Under what conditions can I return/ replace my product?
Wrong product delivered
Expired product delivered
Damaged product delivered – Physical damage/tampered product or packaging
Damaged product delivered – Physical damage/tampered product or packaging
Incomplete order
Missing products
Under what conditions return/ replacement requests will not be accepted?
Opened/used/altered products
Original packaging (mono cartons, labels, etc.) missing.
The return/replacement request is generated after 7 days from the date of delivery.
The damaged/ missing product is reported after 2 days from the date of delivery.
Please tell us how are returns processed.

Once you request to return a product, a pick-up is organized for the item. Our courier partners will come to pick up the item within 5-7 business days after your return request has been received. This item is then brought back to our warehouse where it is checked by our quality control team. Once the product passes quality control, a refund is initiated.

Can I cancel my order?

Please call us on +91 9717436857 (Mon - Fri - 9 am to 6 pm), and we will help you in canceling the order. reserves the right to cancel any order without pre-confirming the customer at any time and may verify any order before shipping the same to the customer which may include having a verbal or written confirmation from the customer.

How will I receive the refund for my canceled or returned product?

In case of prepaid orders, money will be returned to the bank account/credit/debit card or where the payment was made within 7 business working days. For Cash on Delivery orders, customers will be required to provide bank details where they would like to receive the refund.

How long does it take to receive a refund for a cancelled order or returned product?

We will process your refund within 7 business days in case of cancellation of an order. In case of returns, we will refund the money after the product has been received by our warehouse and post-completion of the quality check. Please note, that this entire process takes 2 weeks after the return has been picked up.

Can I return part of my order?

Yes. You can return any products that are eligible for returns within 7 days of delivery.
Let customers speak for us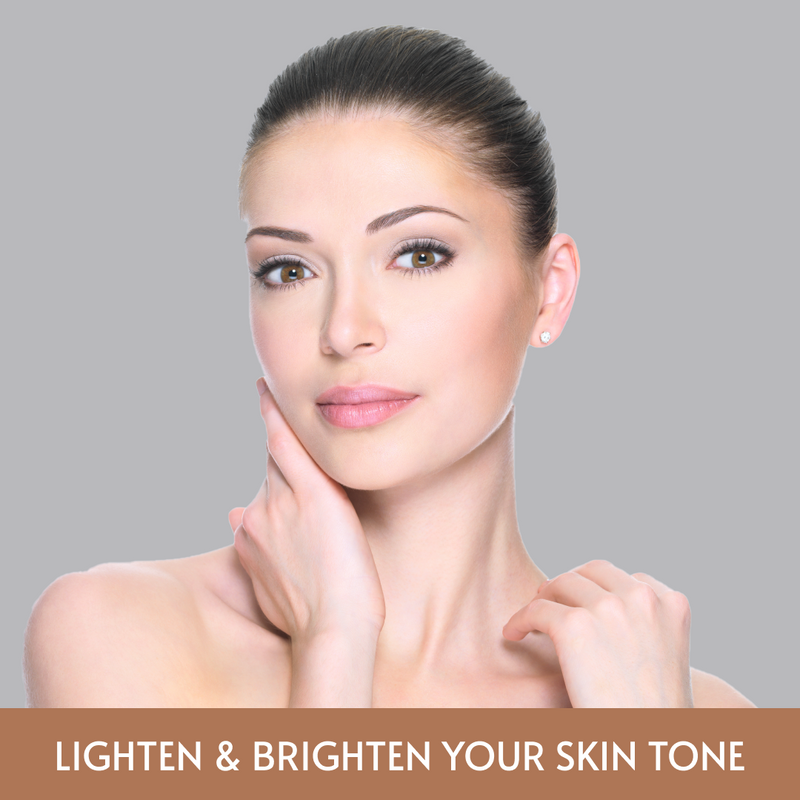 Lighten and brighten your skin tone with Pores De-Tan Face Scrub. It is made with natural ingredients and essential oils like walnut shell powder, aloe vera extract, coffee oil and almond oil and topped with divine fragrance. It increases blood circulation; the presence of antioxidants revives the dull and tired skin, which brightens your skin tone. Almond oil repairs fine lines and wrinkles and softens and smoothes your skin to give it a renewed look. No wonder it is one of the best scrubs as it works to provide clean, clear and flawless skin.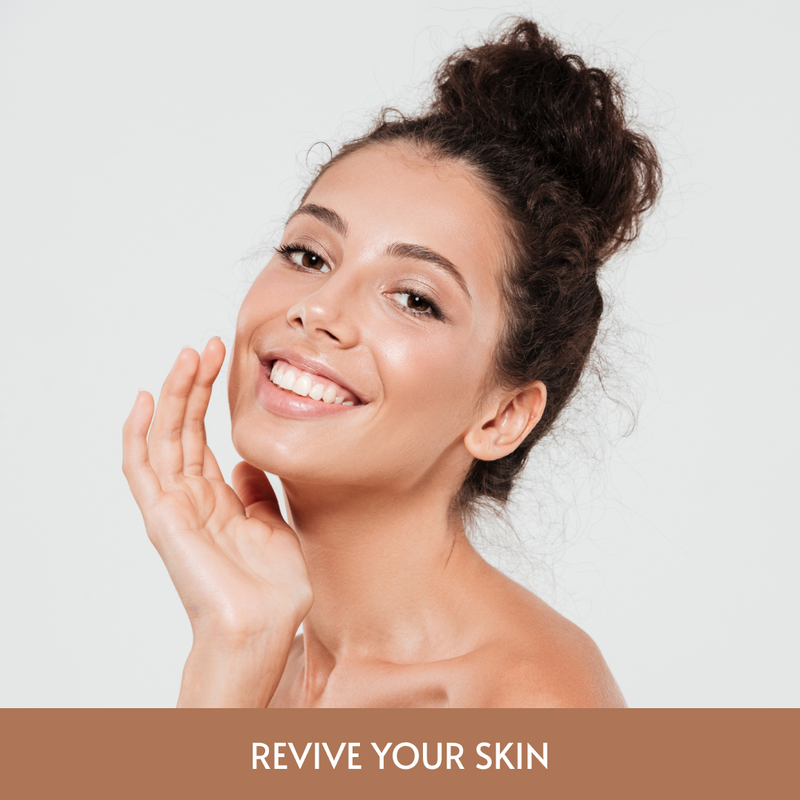 Coffee always gives an instant kick to energize your body, the same it does to your skin too. This face scrub functions wonderfully on your tough skin to exfoliate dead skin, moisturize the upper layer of your skin and restore cells for a refreshed look and youthful radiance. It immediately demonstrates the inner glow of your skin, revitalizing it from heat, dust and pollution. So, next time whenever your face looks dull, dry and worn out, you know it's time for a quick dose of Pores De-Tan Face Scrub!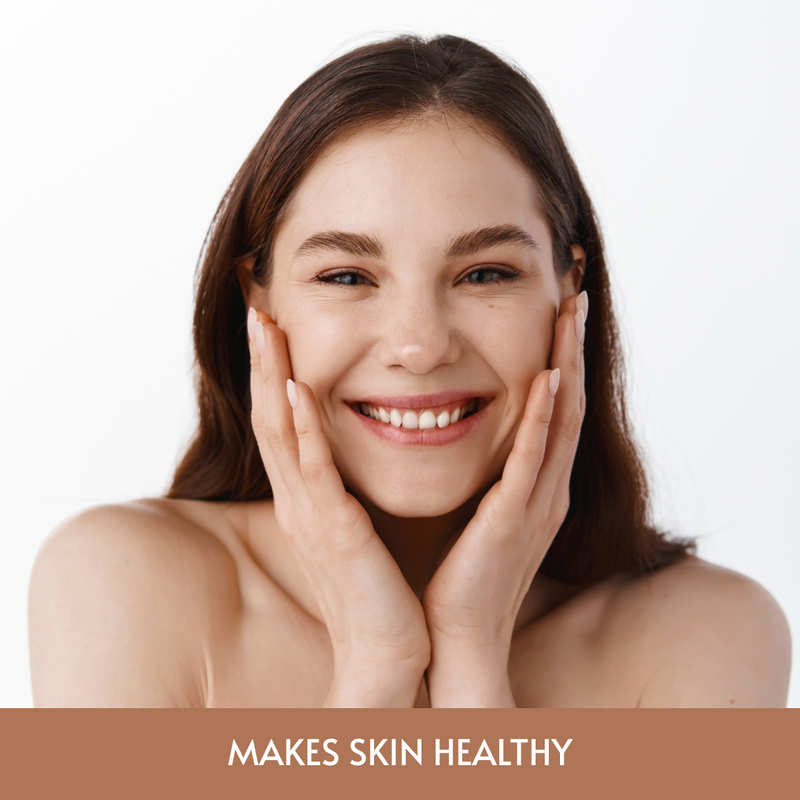 This Face Scrub controls acne and fights the effects of sun & pollution. It offers you a younger, fresher and oil-free appearance for a longer duration. It also controls oil on the face i.e, if you have oily skin this is the skincare you need. It is made for today's generation who spend a lot of time outdoors or sweat it out at the gym, for them it is a must to add to their skincare routine. This product is completely paraben and sulfate free. While a face wash cleans your face, the scrub penetrates the pores of your skin and removes the dead skin making the skin healthier.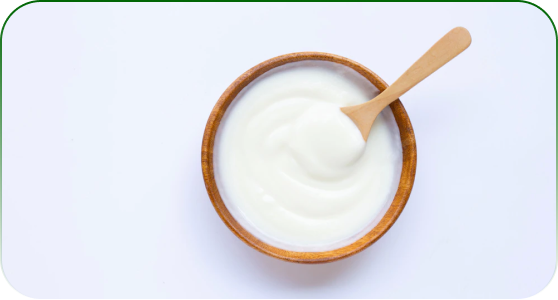 YOGURT EXTRACT
Yogurt is rich in zinc and holds anti-inflammatory properties. It comprises probiotics that help restore the skin's natural barrier. It treats acne and also has natural antibacterial and anti-fungal properties that help in preventing the breakout of acne and ensure glowing and healthy skin.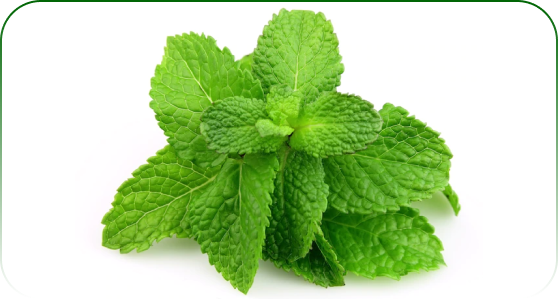 MINT
Mint works well as it contains a mild astringent agent that supports to tone your skin naturally. It is powerful in removing the dead cells, clearing the dirt from the pores and revamps your skin to a softer, supple and well-hydrated tone. It also maintains the moisture in your skin by tightening the pores.